The following are links to Dr. Hamade's Patents® (registered with the USA Patent Office)
WWW.USPTO.GOV                                           <![if !vml]>
<![endif]>
I. Related to possibly wiping out the HIV/AIDS virus, treatment of biological and bacterial microbes and virus,
                       <![if !vml]>
<![endif]>                     <![if !vml]>
<![endif]>
medical and health applications, food and produce preservations, increasing automobile MPG,
enhance and replace catalytic converters, enhance pollution control, water and wastewater treatment:
II. Thomas A. Hamade, "Electrically Stimulated Catalytic Converter Apparatus, and Method of Using Same", U.S.A. Patent Application  # 60891281, filed February 23, 2007, International Application PCT/US2008/54727 filed February 22, 2008 (US 2010/0186376 A1 Publ. Date: July 29, 2010, China Patent Publication 101711445A, June 2, 2010).
<![if !vml]>
<![endif]>               <![if !vml]>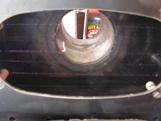 <![endif]>           <![if !vml]>
<![endif]>
III. Entire Ph.D. dissertation experimental and theoretical work related to the Ultrasonic air velocity and coal suspension mass flow measurements with the inventors Charles B. Leffert and Leo H. Weisman:
IV. Related to high efficiency air filtration (clean room: medical and semiconductor) and aerosol filtration (smog, mist and factory air): See patents listed in section (a) above and the following patent: <![if !vml]>
<![endif]>
V. Related to automobile retrofit equipment: